After the first Cloud Identity Summit 2020, the feedback was very good and that encouraged us to organize an event in 2021. The second edition will take place again as an online conference on September 30, 2021.
The Call for Papers starts on Monday, June 13th, 2021 and ist open until Sunday, August 01st, 2021 is closed. The agenda is now Online take a look and reserve your seat. We thank all speakers for their participation and will inform you shortly.
Follow us on Twitter @identitysummit or the hashtag #IdentitySummit.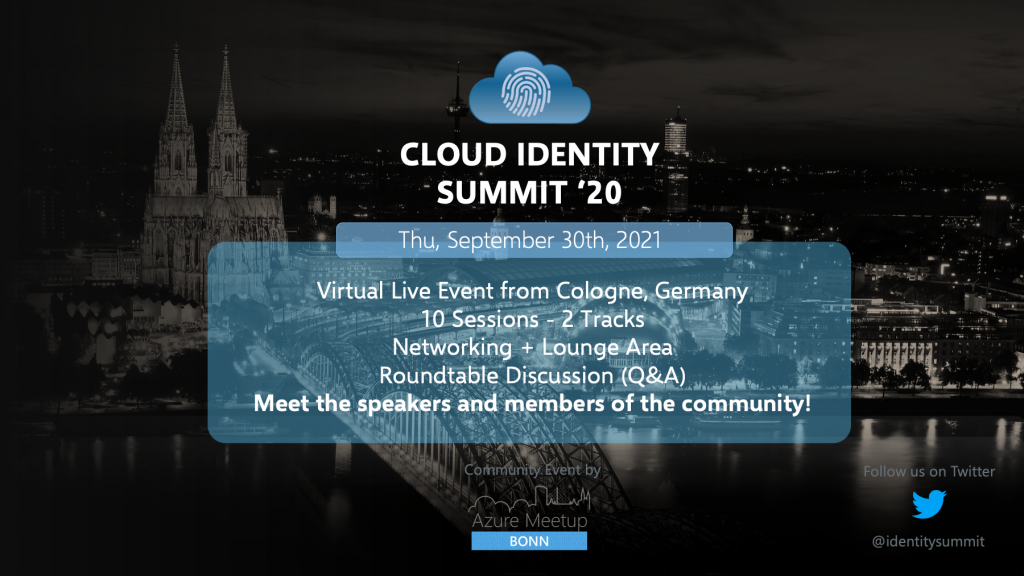 Information about the event:
The Cloud Identity Summit focuses on Cloud Identity Management, various aspects such as identity protection, managing external accounts, passwordless and much more. The Cloud Identity Summit is a free event that focuses on the exchange between the participants. The group of participants is international and comes from different areas and industries.
The event has moved to an Online event for the safety of our attendees and will be delivered over Microsoft Teams. Registration is now open via our Azure Bonn Meetup Site. Please feel free to contact us for any questions.