The second Cloud Identity Summit was on September 30, 2021. The event was conducted online and was free of charge.
We had a large number of speaker applications and it was very difficult for us to choose. Here again a big thank you to all speakers: We hope that we will have the opportunity next year to offer one or the other session that we were unable to accommodate this year.
With 10 sessions spread over two tracks, we were able to increase our offer compared to the last event. We would like to thank our speakers for holding high-quality sessions in the area of ​​cloud identity and cloud security! The feedback from the participants showed that the exchange of information was an enrichment for everyone involved.
We had a total of 250 participants, with up to 180 simultaneous participants in the sessions. About 70% of the participants were from Europe, 20% from the US and the rest were spread across the rest of the world. We are very proud to have been able to reach people all over the world.
This experience encourages us to continue and plan an event again next year. For all further information, follow us on Twitter @identitysummit or the hashtag #IdentitySummit or check this website regularly.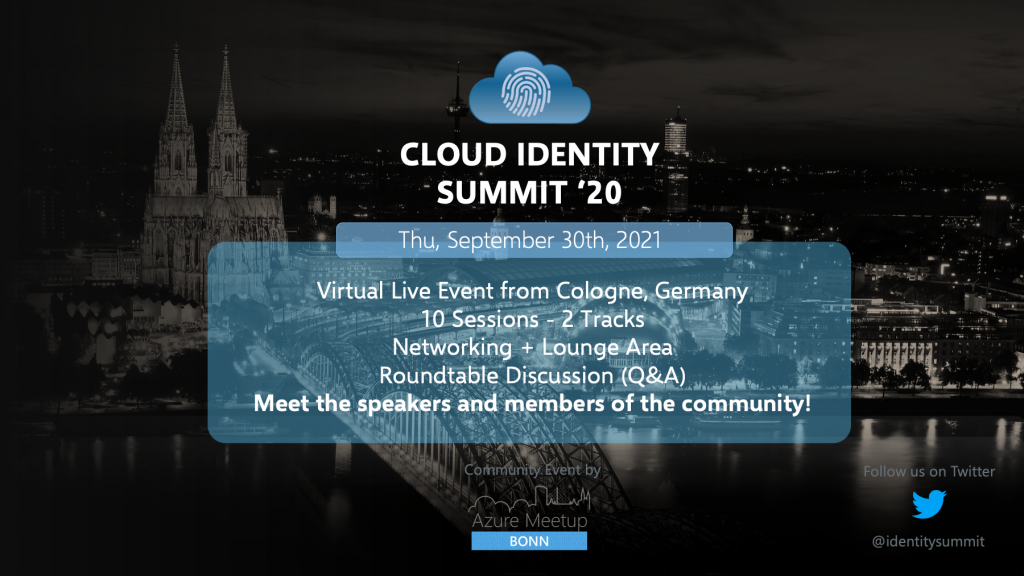 Information about the event:
The Cloud Identity Summit focuses on Cloud Identity Management, various aspects such as identity protection, managing external accounts, passwordless and much more. The Cloud Identity Summit is a free event that focuses on the exchange between the participants. The group of participants is international and comes from different areas and industries.
The event has moved to an Online event for the safety of our attendees and will be delivered over Microsoft Teams. Registration is now open via our Azure Bonn Meetup Site. Please feel free to contact us for any questions.