We from the AzureBonn Orga Team are very happy to announce our special online community event for the fall. On October 22nd, 2020 we will hold an online community event on the topic of identity with a focus on Azure Active Directory from Koblenz, the home town of Thomas Naunheim.
The virtual "Cloud Identity Summit" is a free event that wants to put a strong focus on the exchange between the participants. We would be delighted to meet those interested in identity from different areas and industries, such as Microsoft partners, system houses and companies with internal IT.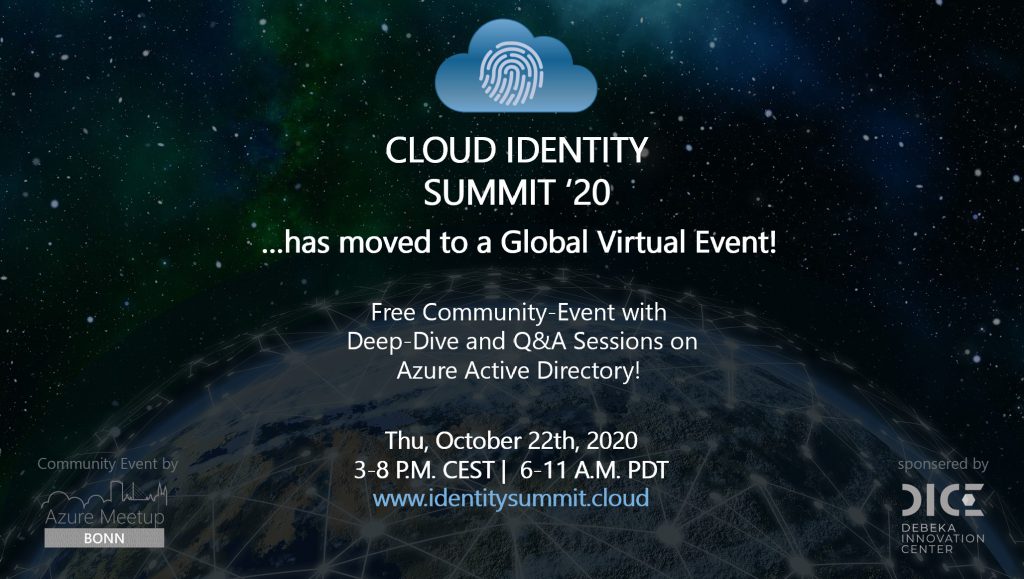 This event deliberately focuses on identity management and we will cover different aspects such as identity protection, managing external accounts, passwordless and much more. You can register for this free community event via the Azure Bonn Meetup site https://www.meetup.com/de-DE/Azure-Bonn-Meetup/events/271796710/ . Follow us on Twitter using the hashtag #IdentitySummit for the latest announcement and don't hesitate to contact us.
Due to the current situation, we have decided to hold this event purely virtually. As soon as it is possible again, we will offer this format as a face-to-face event.
We are still looking for sponsors, if you would like to support us, please do not hesitate to contact us.